If your company is using PTC Creo Parametric for mechanical design and to create spare parts tables, today you can rely on Interactive SPares to make the workflow automatic and create spare parts catalogues and publish them on the web.
As it was the case for other CAD software in the past (SolidWorks, SolidEdge, Inventor, etc..), now even the best CAD software PTC (the industry's leading mechanical CAD software) is 100% compatible with Interactive SPares. You can create your spare parts tables using PTC Creo Illustrate and import them directly into Interactive SPares. Reference numbers become immediately interactive with no need for manual intervention. Interactive SPares will automatically recognise the "balloons" created with Creo Illustrate and associate them to the BOM (bill of materials). This too can be imported in a single click. In a few seconds you can share your spare parts catalogues with your assistance centres worldwide and receive orders from your customers with no errors!!
Find out how you can streamline the spare parts catalogues publishing process and forget about time-consuming conversion and online publishing.
No client to install, no software license to be updated. A web browser is all that you need!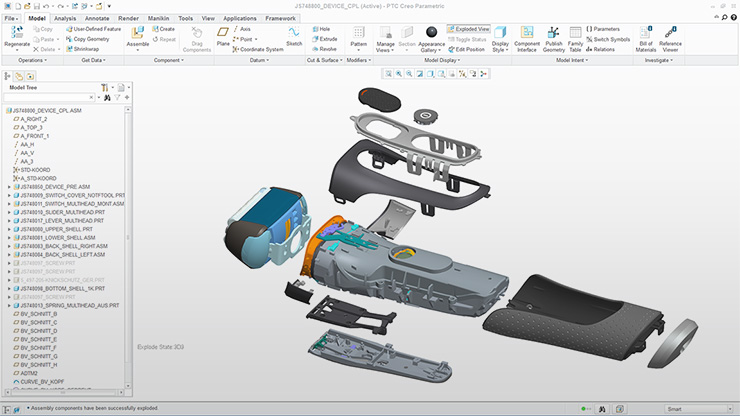 Your company does not use PTC? No problem, Interactive SPares is compatible with 90% CAD software available on the market. If you have any doubts, send us your files. We will be glad to make a test free of charge and will send you the final result.
By continuing to use the site, you agree to the use of cookies. Cookie Policy
The cookie settings on this website are set to "allow cookies" to give you the best browsing experience possible. If you continue to use this website without changing your cookie settings or you click "Accept" below then you are consenting to this.