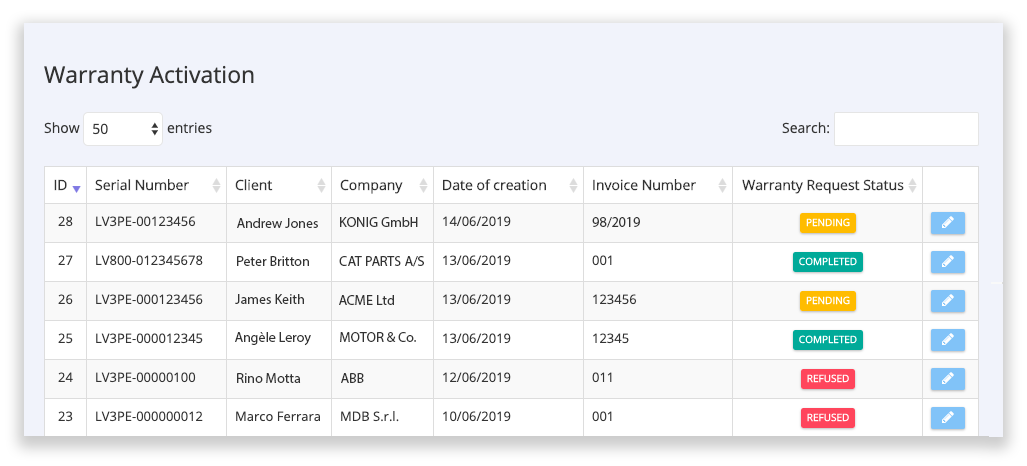 Warranties
With this add-on you can manage the whole process of activating warranties and dealing with claims under warranty. Through the portal, users can activate warranties for their machinery, entering the relevant details on a form (serial number, date of sale, invoice number, etc.) and attaching the necessary documents.
Communications
The administrator receives the request from the user, checks the submitted documentation and notifies the user if he needs any more information to complete the registration process. Every time the status of his request changes, the user receives an automatic email inviting him to view it by clicking on a direct link.
Claims
For claims under warranty, all the user has to do is fill in the details of the machine on the form, attach the photos illustrating the damage and place the parts to be replaced under warranty in the cart. When the request is received, the administrator checks the documentation submitted is in order and processes the order for the spare parts under warranty.
This add-on is part of the
Gold
plan but can also be integrated into other plans.
Contact us
for more information.
By continuing to use the site, you agree to the use of cookies. Cookie Policy
The cookie settings on this website are set to "allow cookies" to give you the best browsing experience possible. If you continue to use this website without changing your cookie settings or you click "Accept" below then you are consenting to this.