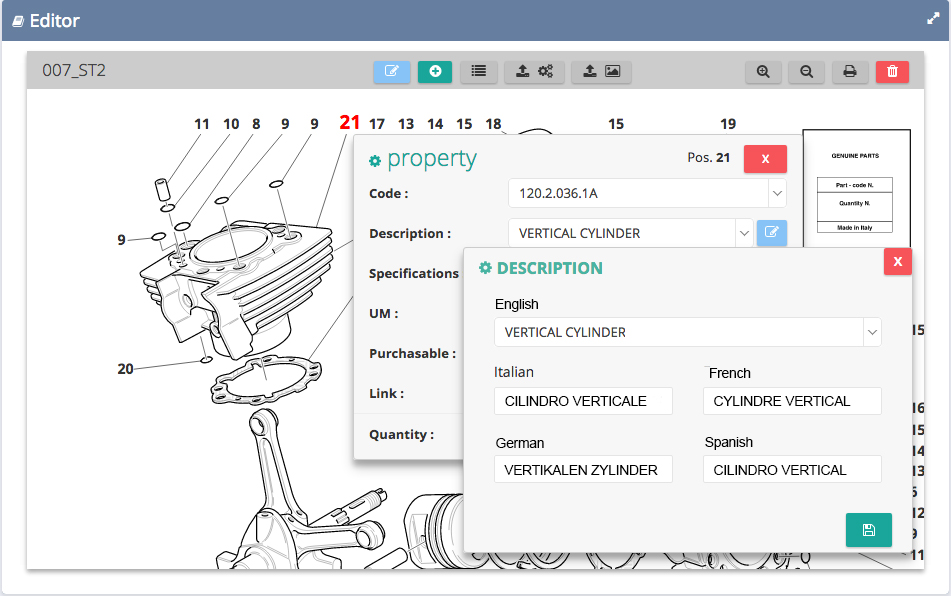 With this new release, Interactive SPares has introduced a powerful graphic editor to
create interactive spare parts tables
even more quickly. Upload your drawings with a simple click and you'll be amazed how the
drawing reference numbers
(callouts) are already sensitive. All this is thanks to the
AutoTag™
algorithm that automatically generates the hotspots necessary to make the spares tables interactive. With Interactive SPares you don't need any client
software
to create interactive spare parts catalogues; all you need is… a browser!!!
You can decide to
upload all codes that are part of a table in bulk
; all you have to do is simply create a file divided into columns containing all the information that has to be associated with the drawing hotspots (position, code, quantity and description in different languages).
Now you can modify or add codes from the graphic editor. Just click on the drawing reference to open the
properties window
where you can edit everything, from the code to the description and even all the translations in various languages!
By continuing to use the site, you agree to the use of cookies. Cookie Policy
The cookie settings on this website are set to "allow cookies" to give you the best browsing experience possible. If you continue to use this website without changing your cookie settings or you click "Accept" below then you are consenting to this.